OUR COMMITMENT
Even with the company's over 25 years of metal casting experience, Cebu Iron Foundry Corporation conducts extensive product research and development and adheres to the philosophy of continuous product and process improvements. These coupled with rigorous quality assurance practices ensure that customers receive only the highest quality products and services, manufactured using the best metal-casting practices and techniques.

Environmental Commitment
In the present era of environmental degradation and resource scarcity, Cebu Iron Foundry Corporation has positioned "being green and environmentally friendly" as one of its management and manufacturing philosophies.

The company performs environmental-friendly practices in all stages from its product research and development, production, waste disposal and recycling. Some of these practices include resource/material conservation in product design, raw material recycling, energy conservation in production, air pollution control and waste & byproduct segregation among others.

And just like all of CIFCO's activities, the company's environmental policies and practices are continually evolving and improving to ensure sustainable development and a better environment for the future generation.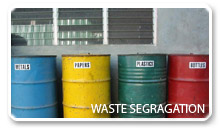 Corporate Social Responsibility
Seeking to contribute toward a prosperous society, CIFCO is engaged in various activities that help community growth and progress. CIFCO focuses on public awareness, human resource development and volunteer activities. The company maintains strict training standards on its employees to develop their abilities and leadership. CIFCO participates in local community volunteer activities such as fire-prevention awareness programs and gift-giving during the holiday season. It also works with local service and charitable organizations such as the Lions Club.